THE SPULLENMEN
THEATRE, INSTALLATIONS, VISUAL ART AND PURPOSELESS CONTRAPTIONS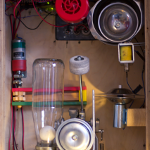 Improvised music set in motion by a gambling machine...
more info
musical performance [available]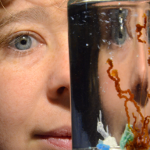 On things going round is a knight's tour visiting the remote corners of the mind. De Spullenmannen explore the arts and sciences, skipping from maths to music, stumbling on visual art and digging into the history of ideas...
more info
performance [available]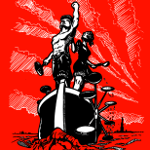 A two-person restaurant on an old boat is Pancake boat with pan paddle propulsion. The cook and the captain feed their guests pancakes with stroop...
more info
installation [available]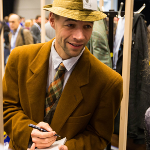 Four reporters, a cartoonist and a graphic designer get three hours to find out where they are and what's going on in the world. With help of your reliable information and a hand cranked duplicator they produce a newspaper with the real news: The Daily Issue...
more info
newspaper [available]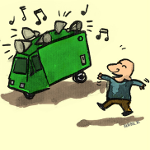 The Beep Oink Yodel Band is locked behind bars in the cargo hold of an electric tricycle, and connected to one-armed bandit. Come and place your bets! Insert 1 coin for 2 minutes of music out of and endless repertoire ranging from Zappa to Cage...
more info
street performance [available]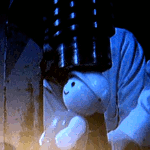 The Spullenmen use a big press to squeeze sounds out of various objects. On a big screen the objects breathe their last sighs in close-up...
more info
musical performance [available]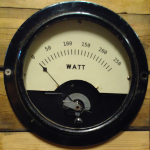 A series of bicycle-powered installations shows the problematic concept of energy..
more info
installation [available]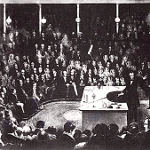 Lecture about recycling, grassroots initiatives, art and science and serveral other topics..
more info
lecture [available]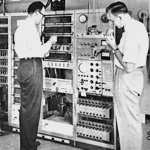 The playground of de Spullenmannen. It is here that ideas are born, spullen is gathered, and experiments are carried out...
more info
special projects [available]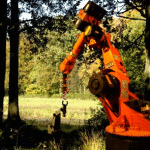 The City Conductor is a science fiction drama in which two robots play as actors. the story is about a couple of scientists that discover that their civilization is about to collapse, just as it is too late to help it...
more info
visual theatre [2018]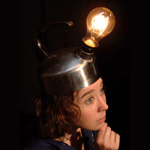 A fascinating mix of a sciencemuseum, a fairy tale and an escaperoom...
more info
interactive exhibition [2008-2016]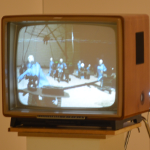 Trio of interactive installations in which wasted energy plays a central role...
more info
installation [2016]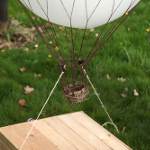 Opening performance for the exhibition 'Castles in the sky' at Slot Sypestein, with a spectacular voyage that gives a new outlook on the world..
more info
performance [2014]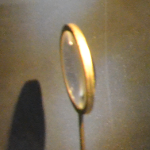 A journey through the history of science with a High Striker that shows how everyday objects from now are connected to a chain of scientific discoveries from the past...
more info
installation [2013]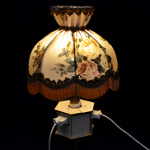 Create a resilient network in 3 simple steps!
pick up some cables and connect the lamps to the power generator
test your system: press the large red button to create a random disturbance
too bad, start over!
..
more info
installation [2012]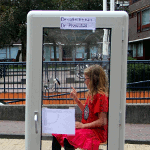 In a glass cabine sits a man. A beautiful specimen. It seems concentrated. What is it doing there? And who is watching?..
more info
installation [2011]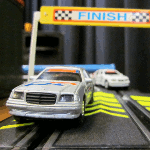 The Finite Racetrack is a toy with a twist. Race 10 laps as quickly as possible, but be careful, or nobody will win.....
more info
installation [2011]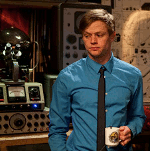 De Spullenmannen have built the scenography for the VPRO-series "Hoe het echt zit"...
more info
scenography [2011]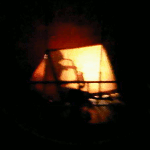 Short performance with a sausage and a meters long spark of lightning, that is being manipulated musically. Part of a theatrical odyssee across the campus of TU Eindhoven...
more info
performance [2011]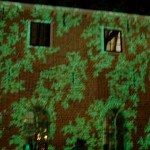 Live-videoprojection of the future deterioration of a building...
more info
installation [2010]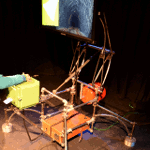 In the lobby of the TU Delft stands a big machine, looking like it came from the moon. With it, visitors can take a virtual tour through the digital collection of the library and experience its rich diversity...
more info
installation [2010]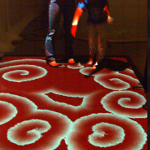 interactive video projection on a floor or wall. A white wave spreads over the red floor. When you step onto the floor you can break the wave with you shadow. By breaking the wave in the right way you can make amazing spirals...
more info
installation [2009]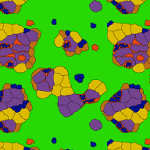 Projection that fills the wall, based on the formation of cell tissue. With a controlpanel the rules can be influenced and a rich world of wall paper patterns can be created...
more info
installation [2009]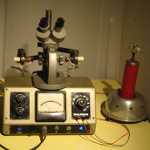 A stereo microscope with a gravitational simulation of star systems inside. With the controlpanel the values of the most important cosmological constants can be changed...
more info
installation [2008]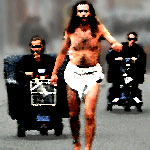 "The neighbours are NOT dangerous!" - "Say NO to wrinkles!" - "Respect authority!"
Free recommendations by the Mafia. They address warnings to the audience, comfortably seated in their pimped electric wheelchairs...
more info
performance [2003-2007]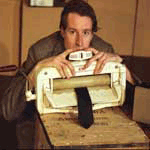 In a remote record office at the Ministry of Goods No Longer In Use two men are trying to keep their heads above water. MORE is about the abundance of spullen and the experience of being written off...
more info
visual theatre [2003-2007]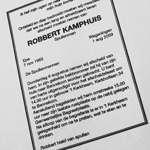 Anything can happen between now and tomorrow. Even things you don't want to think of. By answering a few questions you can make your own obituary. The Obituary Generator calculates your possible course of life and shows what your obituary could look like...
more info
installation [2007]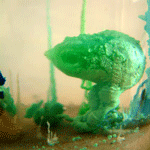 Curiosity is the joint driving force of artists and scientists. OERolSOEP is about the tall tale that is all around us every day, but no longer arouses our curiosity...
more info
beeldende kunst [2007]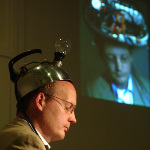 With the Brain Detector the visitor can sneak a peek at what could be going on underneath his scull. He can put a water kettle on his head, with wires everywhere and a light bulb in the spout...
more info
installation [2007]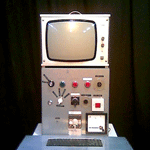 The Language Machine makes new words. Do you have something that desperately needs a word? Describe it to the machine and it will set out to work...
more info
installation [2007]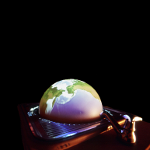 Interactive globe in a repurposed washing machine. With a tap the sea level can be adjusted...
more info
installation [2007]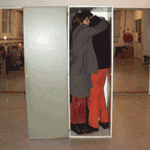 Study by the Spullenmen, Jesper de Neergaard, Bjørn Olesen en Tina Andersen exploring the boundaries of commercialism and absurdism...
more info
theatre show [2006]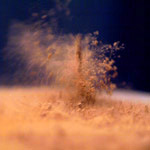 A pan on legs with a layer of sawdust on top. By directing the pan with your hand you can make it sing and shape the patterns in the sand...
more info
installation [2007]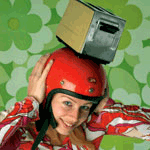 The toasterhelmet went through a turbulent development over the past century. With a fashion show and an exhibition, the Spullenmen provide an overview of this colourful history...
more info
design, performance [2004-2006]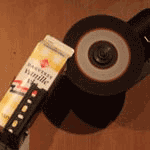 A fully automatic Pudding Machine. Featuring power tools like an electric drill and a grinding disc, it uses a lot of motoric force to prepare a delicious dessert...
more info
contraption, performance [2002-2006]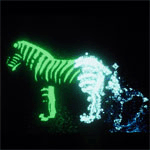 A drawing table teeming with organisms that draw their own plan. You create a dynamic world with a balance betwen life, food and waste...
more info
installation [2006]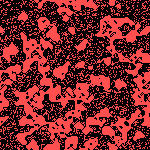 A repurposed calculator on which the user evolves patterns using esthetical selection...
more info
installation [2006]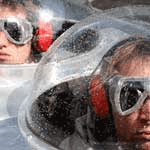 Investigating Terrestrial Intelligence is a survey of earthly intelligence. Scientists investigate an allegedly extraordinary species in its natural habitat from within the safe environment of their mobile laboratory...
more info
short outdoor performance [2004-2005]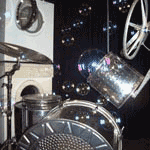 Backline for a band built from washing machine parts...
more info
installation [2005]
For the temporary storage of your child...
more info
installation [2004]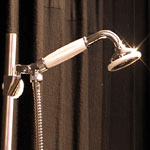 The Esteem Machine can be brought into action when the need for a decent applause is high. The operation instructions are simple: position oneself underneath the machine and press the big red button. An enthusiastic indiviual applause will be the result...
more info
installation [2004]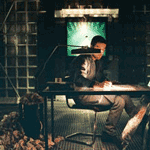 Glass as a reflecting interface, literally as the reproducer weergever of images and sound. The Spullenmen contributed to the GlasslaG project by compagnie Okx. GlasslaG is a multidisciplinary research and a site specific work-in-progress...
more info
visual theatre [2003]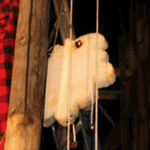 Splatter, Time, Rope and Poles
A sound performance in which chain reactions influence and ultimately disorder the lives of characters living in a grant clockwork. STPR is a co-work of the Spullenmen, Odd Enjinears and TUIG...
more info
visual theatre [2003]
No stand-ins, all stunts are for real! A racing driver tears with an electric invalid chair across a giant ramp and jumps through a ring of fire. That is, almost.....
more info
act [2002]
more